PussyCash Review: An Innovative Sex Cam Affiliate Program
PussyCash has been in the market of live adult webcams since 2002. This means it's the oldest sex cam affiliate program that remained functional to this day.
In this PussyCash review I will cover everything you need to know, and the interesting history leading to the highest industry payouts to-date.
This sex cam affiliate program is like fine wine, and it only improved as it aged.
Don't let their 2004-style affiliate program login page fool you, it's only the dust that accumulated on the wine bottle.
Not only does PussyCash offer up to $250 PPS, up to $3 PPL, and 35% Lifetime RevShare programs, these guys don't stop there.
They keep launching new adult webcam products, with the latest two taking form in 2015.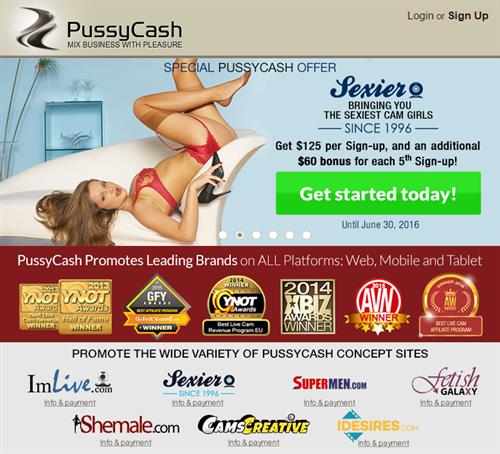 I'll begin my PussyCash review with a tale of two giants:
A Bit of History: When the Giants Collided
With supreme technological and business minds behind the curtain, PussyCash holds its position as a sex cam affiliate program industry leader, and it's the only player around big and strong enough today to give AWEmpire a real run for its money when competing for affiliates.
In 2004 they were still offering only $40 PPS just like AWE, and the market was at a standstill. In 2005 they bumped their payouts to $100 PPS for their flagship product, and by doing so posed a real challenge to AWEmpire.
In 2009, AWE were still playing in the sandbox and eating glue, offering a mere $40 PPS 4 years after PussyCash threw down the gauntlet, but then the battle started heating up.
AWEmpire, tired of being over-bid by PussyCash, started raising the webmaster payouts gradually which brought about the beginning of an intense race.
The years 2009-2014 were a battle of promotional campaigns targeting adult webmasters, each more aggressive than the next, and eventually the free market determined the winners…
You won.
With PPS rates today in the $200-$300 range, there's no doubt about it.
Now, you can sign up to both sex cam affiliate programs and enjoy aggressive PPS and REVS payouts the cause of which is the competition of two adult industry titans.
The Adult Webcam Products of PussyCash
PussyCash offers 8 products for you to choose from.
With proprietary video streaming technology and translations to 17 languages, their sites are a lean, mean conversion machine.
ImLive
This adult webcam site is the flagship product of PussyCash.
With offers of free membership, tons of bonus and special member programs for your referrals, cam girl videos and much more, I'd say it's the most feature-packed adult cam site.
Their friendly webcam hosts hundreds of which are online at any given time, are bound to convert your referrals.
ImLive offers adult cam shows in every niche imaginable, just check it out and see for yourself.
Occasional porn star cam shows only increase the odds of retaining the users and bringing inactive users back by newsletter promotions which are occasionally sent out to the subscribers.
Oh and by the way, PussyCash affiliates get free access to these porn star cam shows, as a special perk.
This live cam site won awards from the most authoritative organizations in the adult industry like GFY, AVN and XBIZ, to name a few.
Here's the full list for you detail freaks:
2009 Cyber Socket Awards - Best Live Feed Provider (Gay category)
2010 Cyber Socket Awards - Best Live Cam (Gay category)
2012 Cyber Socket Awards - Best White Label
2015 AVN Awards - Best Live Chat Website
2015 YNOT Awards - Best Live Cam Revenue Program (EU)
2015 Live Cam Awards - Best Overall Live Cam Site
2016 AVN Awards - Best Latin American Adult Webcam
Sexier
Sexier is a premium membership webcam site.
It doesn't offer free webcam chat, and your users can't register for a free account. There's no PPL program for Sexier, but the PPS and RevShare offers make up for it.
Now, you might think it's a bad thing, but au contraire my dear friend: Sexier converts beautifully if you feed it high quality adult traffic.
It's basically the premium version of ImLive, differentiated from it by using its old design, and different colors.
PhoneMates
What started out as a mobile product concept, is now a fully-fledged cam site with standard RevS offers, and PPS offers for users who sign up for a $1 package.
The design is similar to ImLive. They have the same parents, after all.
CamsCreative
A new concept site by PussyCash, which allows users to peek into the lives of cam girls streaming sexy webcams from unusual places.
CamsCreative was awarded the 2015 Best Newcomer Site award by YNOT, as they launched.
This site only offers a PPS payout for every trial account opened by your referrals.
FetishGalaxy
FetishGalaxy took its current form in 2013, and has been a top rated cam site for all the fetishist webcam aficionados.
Part of the LifeStyle Sites section of the PussyCash offers, FetishGalaxy is an adult community mainly focusing on fetish webcam shows but also providing informational material, fetish videos and more.
FetishGalaxy is a real playa in the fetish webcams field, and the list of fetishes it offers would make your girlfriend's bondage fantasy look like your first kiss, in comparison.
Shemale.com
This premium domain name was acquired by PussyCash in 2007 for $520,000!!!
This pillar of the LifeStyle Sites section is one of the leading transsexual cam sites online today. Sure, the Shemale webcam section is not the only thing this portal offers, but it's the main thing.
Articles, blogs, news, sports and videos are the secondary focus of this website, but webcams remain the main focus, and that's how the money's made.
SuperMen
The third site of PussyCash's LifeStyle Sites trifecta, focusing on cam shows by hunky studs.
This is basically a glorified gay webcam site, with not much additional content aside from that.
Despite this fact, SuperMen.com won these CyberSocket awards:
2014: Best New Site
2016: Best Innovative Webcam Site
iDesires
While not an actual webcam site, this interactive porn VOD service is one of a kind.
iDesires allows its users to choose an adult video, and to decide what will happen as the story progresses. Sure, the performers are the best actors, but the concept is awesome and sells really well!
While the 50% RevShare offer is the only payout option for iDesires, it's the highest REVS offer on PussyCash.
This innovative site will surely push the big competitors of PussyCash to launch similar concept products in the future.
Payment Programs Available on PussyCash
Now that I covered all the sites, this is the right place in my PussyCash review to go over the potential payouts for driving conversions to each of them.
I will go over the details in a minute, but here's a quick summary table for you:
| | | | | |
| --- | --- | --- | --- | --- |
| Site | PPL | PPS | LifeTime REVS | Bonus |
| ImLive | Up to $3 | Up to $250 | 35% | Ask your affiliate manager |
| Sexier | | $125 | 35% | $60 for every 5th sign up |
| Phone Mates | | $40 | 35% | |
| Cams Creative | | $40 | | |
| Fetish Galaxy | Up to $3 | $150 | 35% | |
| Shemale | Up to $3 | $150 | 35% | |
| SuperMen | Up to $3 | $150 | 35% | |
| iDesires | | | 50% | |
So, to elaborate:
PPL
You can promote ImLive and the 3 LifeStyle sites – FetishGalaxy, Shemale and Supermen – and earn between $0.20 and $3 per valid registered lead. (The other sites don't have PPL offers)
The wide range of possible payouts exists because leads from different countries are worth differently to PussyCash, and will earn you a varying PPL payout.
Here's a table for you: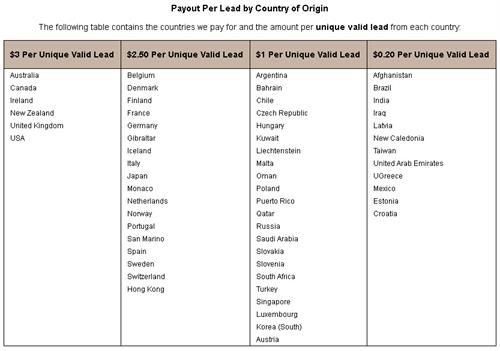 The country of your referred users is determined by their IP address.
PPS
The Pay Per Signup structure varies from site to site.
For ImLive.com your PPS earnings rise with the number of paying members you refer.
This scale resets every pay period which lasts 2 weeks on PussyCash:
Signups 1 – 5: $150 PPS
Signups 6 – 20: $200 PPS
Signups 21 – 40: $225 PPS
Starting from the 41st Signup: $250 PPS
For Sexier.com you get a flat $125 PPS, with a $60 add-on bonus for every fifth signup per pay period.
So, for the 5th, 10th, 15th, etc. signup in every pay period you get an extra $60.
For the LifeStyle Sites you get a flat $150 PPS.
Both PhoneMates.com and CamsCreative.com only pay $40 PPS, just like ImLive did back in 2004.
RevShare & WhiteLabels
PussyCash offers LifeTime revenue sharing of 35% for every site, except for CamsCreative.
Your white labels are eligible for the same RevShare payout.
Webmaster Referral
The Achilles heel of this sex cam affiliate program, is the webmaster referral program.
First of all, they only pay between $1 and $3 per paying member sent to their sites by your referred webmasters.
Secondly, as I'm writing this PussyCash review, I notice that the payout structure isn't clear because on one page it says that you get $2 per member your referrals bring in (and $3 from the 101st member per period), and on another page it says between $1 and $3 per member.
And lastly: It's not RevShare!
Really PussyCash?
I'm truly disappointed.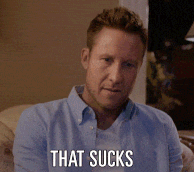 Bonus Programs
Sometimes there are some cool bonus programs on ImLive, so pay attention to the webmaster newsletters, and don't miss out on opportunities to maximize your revenue.
Special Agreements
The affiliate managers at PussyCash are always working to assist their webmasters to increase revenues.
They truly love this sort of thing, so reach out to your affiliate manager when you sign up and try to grab a tailor-made deal and bonuses.
Promo tools
It might seem that the promo tools section on PussyCash hasn't been cleaned up for a while now, but don't be fooled:
The keep rolling out new promo tools.
In addition to the standard banners and link codes there are a few special tools worth mentioning.
The notable of these marketing tools are mobile splash pages, geo-targeted banners, automatically updated promotional porn star show banners, XML feeds and pop up video chat elements.
PussyCash also provides hundreds of free porn image galleries with thousands of free porn pictures for the TGP site owners among you.
Whitelabels
PussyCash offers a separate whitelabel program named WebcamWiz, using which you can create your own co-branded version of ImLive.
As I mentioned above, WebcamWiz offers 35% Livetime RevShare, but what I didn't mention is the 3% webmaster referral commission you can get if you promote WebcamWiz.
Once in a while there are also promotions of a PPS bonus on top of your RevShare earnings, and other bonus programs.
The awards WebcamWiz won are also impressive:
2015 YNOT Awards - Best Overall Revenue Program
2015 Live Cam Awards - Best Live Cam White Label Program
2016 Live Cam Awards - Best Live Cam White Label Program
So, if you're looking for a whitelabel program for one or more of your domains, WebcamWiz is definitely worth your time of setting it up.
Stats, Tracking and Reporting Integration
The PussyCash stats engine is one of the more complex and powerful in the sex cam affiliate program industry.
You can view your top level stats: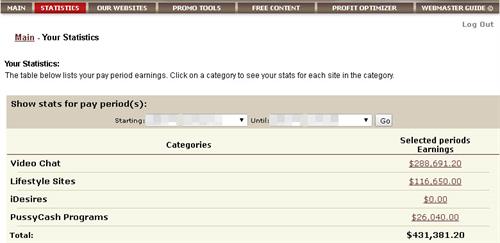 You can look at each section and review your webmaster statistics per website, and even the mobile/desktop distribution per website.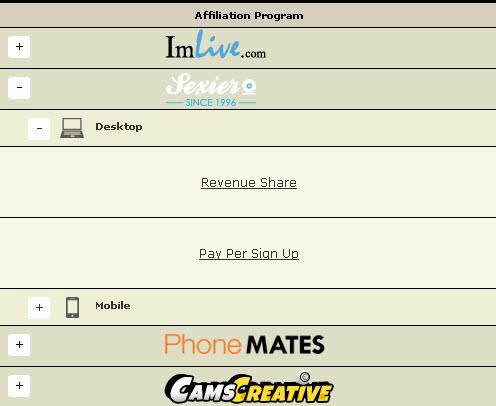 Each of the above views offers a daily breakdown of clicks, sales and revenue, including chargebacks (PussyCash calls them Null Signups).
Important: Note that the Null Signups are not reflected in your stats, but deducted from the payment at the end of each payment period. Not very convenient, but there aren't that many chargebacks anyway.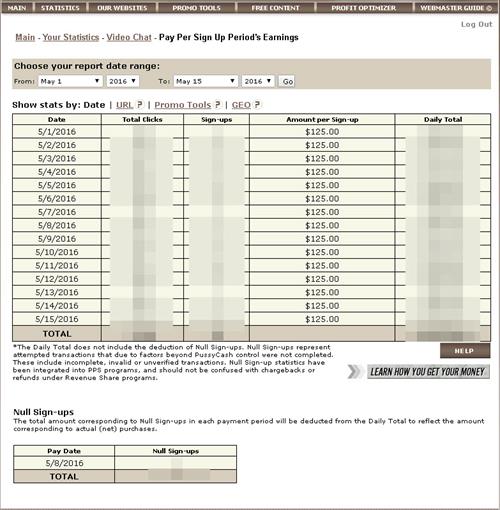 Profit Optimizer – Flexible Tracking
One very powerful tracking tool that PussyCash offers is the profit optimizer.
This is basically a platform to manage all your promo codes, the capabilities of which are superbly flexible.
You can add countless promo codes simply by modifying the basic promo code in your affiliate link, and later add them as tracking tags.
Tracking tags can be grouped for an easier overview of groups of promotional codes.
To recap:
Create as many promo codes as you want by adding them to your affiliate links via the link generator, or by manually changing your links.
In the profit optimizer, under the promo codes section, add them as tracking tags.
Add your tracking tags to groups for a customized grouped stats overview

Now, this tool is not simple but it isn't too complicated either once you get used to it.
In any case, if you're having trouble using it, your affiliate manager would be glad to assist you.
User Interface
PussyCash is so invested in the technology behind their top notch cam sites and the advanced stats engine, that I guess they simply didn't have the time for a face-lift of their sex cam affiliate program website.
The layout is very 2004, but it provides for all your basic needs as an affiliate.
I would love to see them invest some effort in renovations, but honestly, I'm so used to it that I'm not really bothered.
Payouts and Payout Methods
PussyCash is quick to pay after the end of each period, if you reached your minimum payout of at least $100.
It takes them under a week (usually 2-3 days) to process and send out your payment which is very good for this industry!
You can choose to get paid by one of the following methods:
Payoneer
Check
Wire Transfer
Affiliate Support
From my own experience, the affiliate managers of PussyCash are highly:
Professional
Proactive
Responsive
Sometimes you can contact them outside of work hours, and they will still respond quickly and offer you the best possible assistance.
If you have a problem, these guys will check and take care of it as quickly and as professionally as humanly possible.
If there are opportunities to increase your earnings, you will hear about it from them without asking.
Truly top-notch support right there.
Well done!
Awards
PussyCash won so many awards over the years that I wasn't sure I could find them all, but I am super dedicated and committed to you!
So I did all the legwork of emailing my affiliate manager and asking him for the list.
Here you go:
2013 YNOT Hall of Fame
2013 YNOT Awards - Best Live Cam Revenue
2014 YNOT Awards - Best Live Cam Revenue Program EU
2014 XBIZ Awards - Live Cam Affiliate Program of the Year
2015 YNOT Awards - Best Overall Revenue Program
2015 GFY Awards - Best Affiliate Program
2015 Adult Webcam Awards - Best Live Cam Affiliate Program
Important Fine Print
I went through the terms and conditions and couldn't find anything that logic doesn't dictate.
Promote their sites only in the context of legal content, don't bid on branded terms if you're running direct PPC campaigns, stick to best practices, and you should be fine.
Bottom Line
To conclude my PussyCash review.
PussyCash is a pioneer sex cam affiliate program that survived an aggressively competitive marketplace for the past 15 years, while many others were closed down or bought out.
Their payouts are second only to AWEmpire and their websites are top-tier quality with conversion rates to match.
Sign up for PussyCash today, and significantly improve your bottom line.