Cash4Members Review: Convert Adult Traffic Like a Boss!
Published: March 03, 2016
The Cash4Members affiliate program is not new by any means, having been around since 2004 this affiliate program was always a great target for converting your adult traffic, offering as much as 100 Euro PPS at one point in time.
Not today though.
The payouts are lower but it's still a highly converting affiliate program which makes it worth your while to promote their site even at the current, lower rate.
Give it a try:
But I get ahead of myself.
I talk more about payouts in detail lower on this Cash4Members review page.
Back to the basics:
Cash4Members experienced a slump in interest around the beginning of 2015, possibly due to its distancing itself from its old porn brands.
However, they managed to break through the sex cam affiliate market in a bang just recently, in 2016!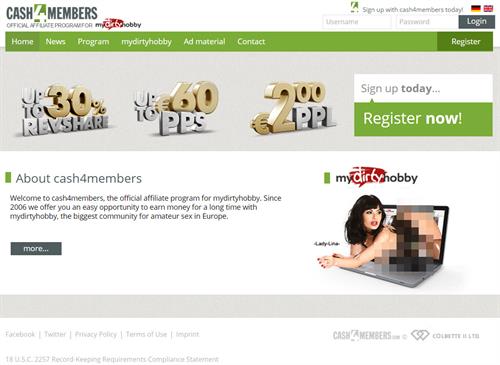 The story behind this revitalized success is simple – Cash4Members has drawn its newer affiliates mainly from the demise of Webcams.com in 2016, when affiliate managers of Webcams.com enticed affiliates, including myself, to shift our promotional efforts from the Webcams.com affiliate program to Cash4Members.com.
Presumably, there was an agreement involved which ended up as a good deal for both sides.
Anyway, I must say:
I didn't expect much from this adult affiliate program, but went ahead anyway…
…And I was pleasantly surprised!
I'll quickly mention that Cash4Members is operated by Colbette II Ltd, a company with offices in the US, Ireland and Cyprus, and that the Cash4Members platform is available in both English and German, but if you're reading my Cash4Members review, you probably don't care about that.
Cash4Members's European Sex Cam Brand
That's right, I said "Brand" – as in only one brand.
In the past, there was a lot of porn star content Cash4Members offered up for promotion to its affiliates, but today the strategy changed and its focus shifted to the adult webcam industry.
They used to offer PrivatAmateure.com in the past, but this site, while still live, seems to have been forgotten. At least judging by its Twitter page which wasn't updated since they got all of us Webcams.com webmasters to promote MDH.
The flagship product – MyDirtyHobby.com - is the sole adult cam site you can promote, but it's also an awesome one!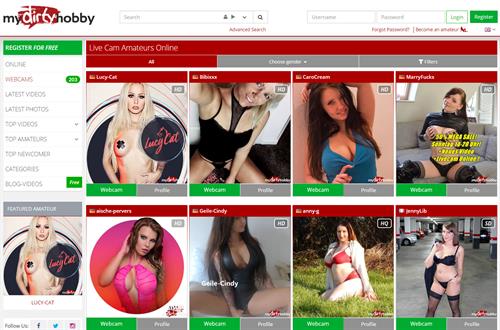 If anything, it's a great target for converting your European adult traffic as the site is filled with hot European camgirls.
The cam models on MyDirtyHobby, a lot of whom are German, are sexy and sensual like only a true Euro-babe can be. Most of them speak English, so your non-German traffic still easily converts to sales.
Marketing-wise, the company positions this site as an "amateur community" rather than a webcam site, which gives the site more credibility in the eyes of some users, so I look at it as an advantage.
Aside from live sex cams, there are a lot of PPV videos on the site, tons of image galleries, and (if you scroll down on video pages until you reach the comments) you'll find an actually vibrant online community of porn aficionados!
The categories on MyDirtyHobby are pretty extensive, covering not only the standard vanilla sex cams of women, men, transsexuals, couples, and groups, but also a variety of fetishes such as spanking, fisting, piercing, and oddly enough… Soccer!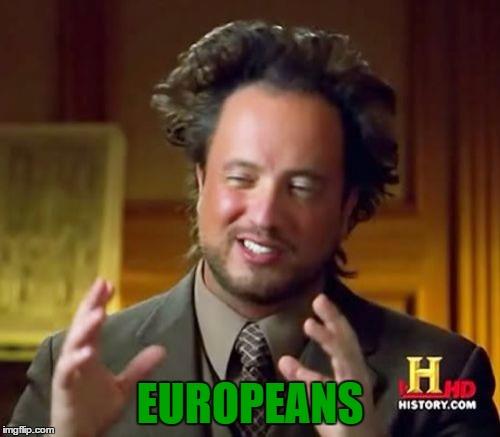 Lastly, MDH is offered in English, German, Italian & French, so drive the relevant adult traffic to this site and get ready to fucking bathe in money!
Payment Programs on Cash4Members
As I mentioned before, in the distant past Cash4Members offered as much as 100 Euro PPS, but today the reality is different, but its current program terms are still not bad at all.
Cash4Members is still a high-paying affiliate program which converts your adult traffic like an Age-of-Empires priest.
Wo-lo-looo, wo-lo-looo, bam!
You made a sale!
And if you don't get the reference, go ahead and google it. Or don't. Back to business.
PPS
The PPS terms which Cash4Members offers is tier-based, like with many other affiliate programs.
The bottom line is that you can earn between 50-60 Euro PPS depending on the number of paying users you drive to MyDirtyHobby.
A paying user means that he made one transaction, after which you will see a nice lump sum added to your stats on the webmaster platform.
RevShare
Similar to the PPS program, the REVS program is tier based.
Your possible cut from transactions made by your members ranges from 25% to 30%, directly to your pocket.
After you pay the taxman, obviously.
PPL
The PPL option is super straightforward:
For each user who confirms his email address, you get 2 Euro PPL.
To clarify:
1. User signs up to MyDirtyHobby
2. User clicks on a link he received via email from MyDirtyHobby
3. You get a commission
Webmaster Referral
10% of the earnings of every affiliate you referred will be paid on top of those earnings, to you – the person who referred an active and working affiliate to Cash4Members.
Model Referral
Same goes for referring models, or as they call it: "Amateurs".
10% of what the model earns goes to you Pimp Daddy!
And once again, I can't stress that enough, it's not taken from the model's share, it's paid by Cash4Members to in addition to what they paid the model.
Special Agreements
Be a good boy and you'll get some candy!
That's right, the affiliate managers of Cash4Members are not a bunch of squares.
They will improve your payment terms (i.e. increase your payout) if you make it worth their while by driving loads of quality traffic their way.
It's redundant to mention that it depends on your negotiation skills and on their agreement.
Promo tools
The promo tools on Cash4Members are very nice and part of the reason this high-paying affiliate program converts adult traffic so well.
As I'm writing this Cash4Members review, there are approximately 150 very graphic banners in different sizes and languages under the Ad Material menu, in the Banner section, and quite a variety of landing pages for different types of adult traffic.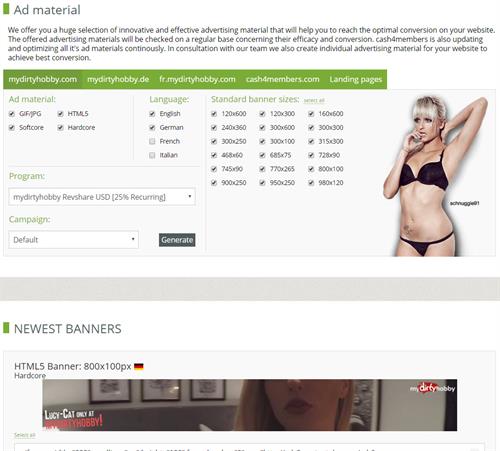 Sure, you could always pick the Link Codes section and just get a simple affiliate link, but check out the banners because they are top quality.
In addition to the banners, there's a tool dubbed the Thumbconstructor which is basically a wizard to create iframes and use on your own site.
The iframe you generate may contain the top videos, online MDH webcams, and more.
The two most salient promo tools are the RSS feed and the API.
The RSS feed allows you to list the newest videos added to MDH, on your own site.
The API allows you to access their list of webcam models (or Amateurs, as they call them) based on a variety of the amateurs' features, such as age, hair color, weight and a lot of other parameters.
Sometimes less is more!
This is exactly the case with the Cash4Members affiliate program.
Even though this program doesn't offer its affiliates awesome whitelabels like the Adult Webmaster Empire, plenty of other adult affiliate programs do.
You can stick to those for all your whitelabel needs, but give Cash4Members a decent shot at your adult traffic, because it converts very well!
Stats and tracking
I'm completely satisfied with the Cash4Members stats screen.
They provide all the basic info, and allow you to separate your promotional channels to different campaigns and differentiate the programs you choose to promote.
You can look at your data by campaign, by promoted site, by date and by program.
You can filter the data by almost all of the above as well and every data range is accessible.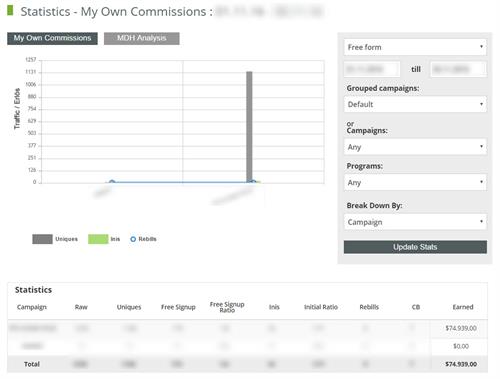 I would add the option to look at a weekly / monthly breakdown, but it's not crucial.
True, looking at long periods of time broken down by day is a bit annoying and doesn't allow for a good macro analysis, but that's why Microsoft gave us Excel.
One neat thing they do show you is your cancellation rate, right under the table containing your traffic stats.
You can't really integrate your system with the stats, because there is no option for a postback link or a statistics API you could tap into.
On the bright side, there's an additional analysis of the traffic you drive to MDH which shows you the overall numbers of the members and amateurs you recruited for MDH.
You can see your top RevShare members and the analysis of your stats per campaign, all of which allows you to optimize your efforts to make money online with this highly-converting sex cam affiliate program.
User Interface
Overall, the user interface of the Cash4Members affiliate program is very accessible and user-friendly.
Like on the BongaCash and Chaturbate affiliate programs, everything you need is right in front of you on the top menu and when you need something you don't need to search for it for hours on end.

Furthermore, the UI of this high-paying affiliate program is available both in English and in German, so everyone who can read English is welcome to this European adult affiliate program as well as native German speakers.
Payouts and Payout methods
On the front of the payment methods variety Cash4Members eats glue.
You can only get paid via wire transfer.
This is less than the basic E-Wallet/Check/Wire combination which most affiliate programs implement.
However, I think that it's only fair to give them more time to adjust, as they've been through a tough transition with so many webcams.com affiliates joining in the past year.
Once you reach your minimum payout, which could be as low as $50 or higher, you will see the balance inflate in your bank account within 2-3 weeks without fail.
My experience with this adult affiliate program is very good and I never had a payment delayed.
Affiliate Support
I only experienced the best support route with Cash4Members – I have a dedicated account manager who transitioned from the webcams.com affiliate program along with his affiliates, and he made sure the transition was smooth and easy.
I can't speak highly enough about the attentiveness and the multitude of actionable suggestions I received from my affiliate manager, so kudos for that!
The contact details of the Cash4Members affiliate support department are easily accessible from the top menu, and you can call, email, or chat with them on Skype.
Apart from that, there's a small and underdeveloped FAQ section which, I can only assume, will grow with time when they are tired of receiving emails asking the same questions.
Important Fine Print
I went over the affiliate agreement which you can access yourself under the "Terms of Use" link which you can find in the footer of any page of the Cash4Members site.
The document is very... German.
By which I mean meticulous: everything is well-defined and very straightforward.
Be good, don't spam, don't mislead, and as I already mentioned once or twice throughout the pages of this site - don't be an asshole and you will be fine and dandy.
Bottom Line
Cash4Members is another winner!
This high-paying affiliate program simply converts adult traffic because they have a quality European sex cam product.
Start today and thank me later.
Don't forget to sign up for the other sex cam affiliate programs which I recommend, by which you'll increase your odds to optimize your adult traffic conversion rates.