AWEmpire Review: The Best Adult Webcam Affiliate Program
The Adult Webmaster Empire (also known as AWEmpire and as AWE) is one of the oldest and more familiar players in the webcam affiliate program industry.
It's been around since 2005 according to the Internet Archive, and it's been actively and increasingly improving their affiliate payouts, marketing tools, and of course – their amazing webcam brands.
Sign up for AWE today and claim a $150 bonus!
Boasting over 50,000 registered webmasters and over $10 Million in annual affiliate payouts, AWEmpire leads the market as the best adult webcam affiliate program.
Don't believe me?
You can find a nice long list of the awards they won over the years, lower on this page of my AWEmpire review.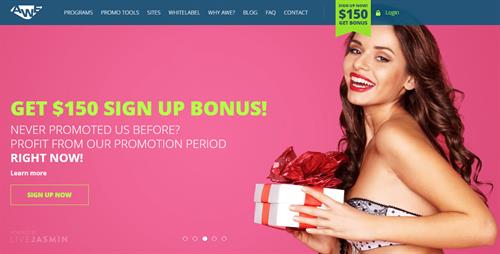 In my review of AWEmpire, you will learn everything you need to know before you sign up, from payout structures to the fine print in their terms and conditions – I covered all the bases.
AWEmpire's Adult Webcam Sites
The adult webcam brands you can promote with AWE are of the highest quality in every niche. Just like the best adult webcam affiliate program, its sex cam sites have won multiple awards by the adult industry's opinion makers.
These webcam sites are top quality:
Not only do their models all have live HD video streams, but AWE's webcam sites make sure to have a recorded video of every model for the time she's offline.
While other sites simply put up a profile page or a few photos, AWE go the extra mile and improve on the user experience for your referrals.
Once in a while, these cam sites have promotions for the visitors, like bonus credits, or free peaks into private cam shows for free users, and it really really works!
Available in a whopping 19(!) languages, these cam sites are bound to convert your traffic successfully, and with great conversion rates.
The sex cam sites you can promote are as follows:
LiveJasmin
This is the flagship of AWE's successful adult cam sites.
It's their first site, and it ranks as the best adult cam site today on the majority of online webcam review sites.
Member promotions, 24/7 customer support and reasonable prices for cam shows, are only a few of the factors that place LiveJasmin as the best website for adult affiliates to promote.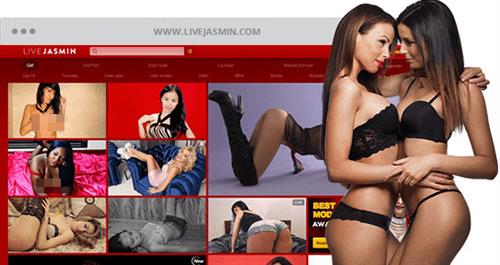 LiveJasmin's homepage allows the viewer to preview each and every cam without a single click, and it offers exclusive cam model filters for its users, including really cool stuff like two-way audio, and actual porn star cams.
This is quality!
Since 2010, LiveJasmin has won at least 10 awards in the Best Cam Site and Best Mobile Site categories.
All of AWEmpire's sites (listed below) are utilizing the video streaming technology developed for LiveJasmin, and offer similar promotions, but focus on different niches.
This incredible site has won over 10 awards in only 7 years, including Best Mobile Site.
In case you're wondering:
XBIZ Awards 2010 Mobile Site of the Year
XBIZ Awards 2010 Live Video Chat of the Year
AVN Awards 2013 Best Live Chat Website
YNOT Awards 2013 Best Live Cam Site
VENUS Awards 2013 Best Live Cam Site International
XBIZ Awards 2013 Mobile Site of the Year
XBIZ Awards 2014 Live Cam Site of the Year
XBIZ Awards 2014 Mobile Site of the Year
AW-Awards 2015 Cam Site of the Year
Live Cam Awards 2015 Best Overall Live Cam Site
XBIZ Awards 2016 Live Cam Site of the Year
And that's another thing:
Mobile is becoming huge, and you can't miss out on promoting such an awesome mobile cam site.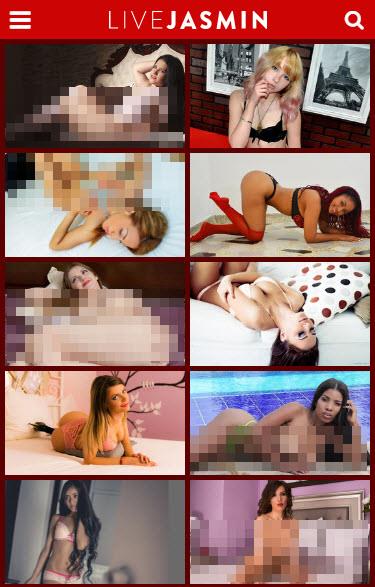 Jasmin
LiveJasmin's mainstream sister has a TV feature with hundreds of channels where you can watch webcam models trying to be TV anchors.
It's not really interesting, but they're sexy as fuck.
And besides, I'm telling you this because you can now monetize Smart TV traffic, thanks to the promo tools on AWE which allow that.
MaturesCam
The older sister of LiveJasmin, by which I mean, a site with only mature cam models.
LiveSexAsian
The Asian variation, only Asian cam models are on this site. Winner of the Adult Webcam Awards 2015 for the Best Japanese Adult Webcam Site.
CameraBoys
For anyone who likes to watch guys.
CameraBoys.com won Grabbys Best Live Cam Site award in both 2011 and 2012.
MyTrannyCams
A successful shemale cam site.
Sister Sites
Sister sites are self-owned co-brands of LiveJasmin.
MyCams.com, a very early co-brand of LiveJasmin, wonCybersocket Industry Choice Best Live Feed Provider in 2008.
LivePrivates.com
LSAwards.com
Joyourself.com
AWEmpire's Payment Programs
AWE's programs are unbeatable!
The payout structures really position this company as the best adult webcam affiliate program.
They might not offer PPL, but PPL is for pussies. It takes a hero to make a real sale.
AWEmpire offers several payment programs:
PPS
Starting at $150 PPS for the first 2 sales, the rate is rising as you sell more per period.
$200 for sales 3-10, $225 for sales 11-20, $250 for sales 21-50, and for all the sales over 50 - $300 PPS!
When you've made your first $300 sale, you've already made $11,650 in that period!
RevShare
AWEmpire's LifeTime+ RevShare plan guaranteed a payout ranging from 40% to 60% of all the orders your referred users placed.
For life!
That's right, once your referred member signed up – you get all those sweet commissions for that account forever!
The tracking cookie before the sign up lasts 14 days.
The commission structure is tiered, just like in the PPS program, and instead of the number of sign ups, it's based on the total amount of credits purchased.
WhiteLabels
Whitelabels operate on a similar payment scheme as the RevShare program, and here the tracking is even tighter, because it's based on your whitelabel's domain.
Important to note:
The sales for each whitelabel are calculated separately. This means that the payment structure is calculated from the bottom for each whitelabel.
Creating your own co-branded site only requires a domain, and about an hour of set up using AWE's own wizard, which is pretty good, to say the least.
Webmaster Referral
You can also do what I do, and target webmasters who are looking to make a buck.
The payment scheme is complicated, but if that's what you want to do you can probably find your way to the Programs page and explore it yourself.
After making the calculation, your average commission should be around 14% if your referred webmasters make the same amount of money every month.
Model Referral
Same exact model as Webmaster Referral.
Referral Bonus
This bonus applies only to the Model and Webmaster referral programs.
If you improve in a period compared to an average of the past 4 periods, you will be eligible for a tiered bonus payment for that period.
Keep improving, keep getting that bonus.
A quick note about the $150 sign up bonus
AWE state on the FAQ page that you receive $75 upon confirming your email address, and $75 more if you've made 3 sales on one of their sites within 40 days of registration.
You will receive the full or partial bonus upon reaching the minimum payout in actual sales.
Promo tools
I won't go into details about each and every marketing tool AWE offers, but I'd like to mention 2 things.
First of all, the promo tools are categorized by four criteria, according to the type of website they're recommended for.
Textual sites and blogs (like this one)
Image gallery sites / TGPs
Tube sites
Membership sites
The second thing is that these tools are technologically superior to most, if not all, marketing tools offered by other affiliate programs.
Here's a list of the more impressive ones:
Hypnoimage and Hypnobanner
Custom Live Feeds
Embeddable Faux Chat
Model Feeds
Mobile and Smart TV tool
Whitelabel Coupon Codes
Free Account Creator
One-Click Payment Integration
The tools aren't limited to this list, they're just a part of it.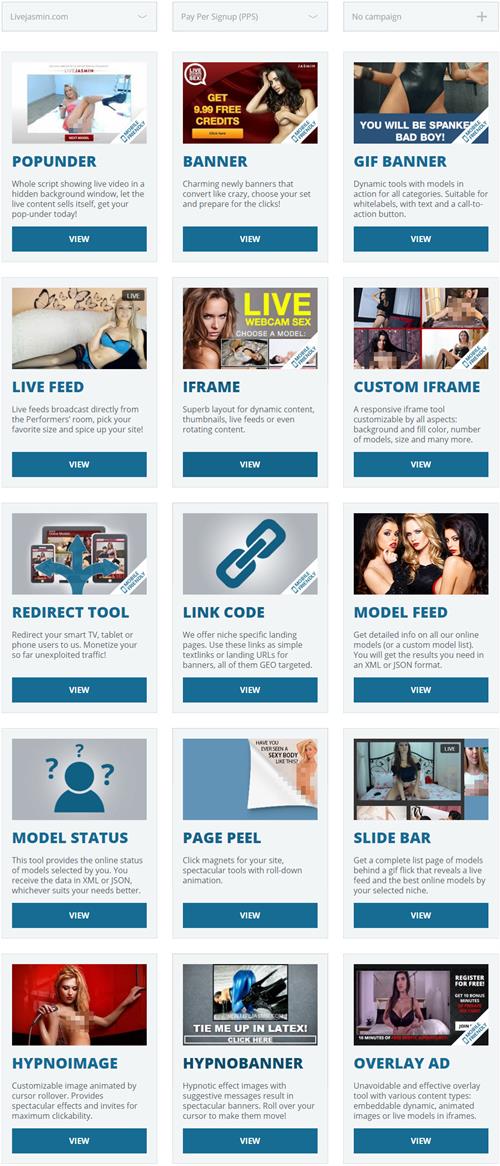 Whitelabels
There are 2 types of whitelabel tools AWE offers:
Whitelabel Editor 3.0 to create your own re-branded version of LiveJasmin.
CamTubeLabel Editor which is optimized to serve as the "Live Cams" section of tube sites like PornHub.
Before you start customizing your own whitelabel, you need to do 2 things:
Change your domain's DNS settings. The instructions for this can be found at the bottom of the "Whitelabel" section accessible from the top menu.
Submit your site for approval with AWE's affiliate team. Read the guidelines before you submit your site in order to avoid unpleasantness.
Once you've done those things, you can customize your whitelabel by adding a custom logo, tinkering with the site's colors, changing a lot of the texts for SEO purposes, and even placing a banner or two.
If you have a few suitable domain names laying around or parked with your domain registrar, you should definitely monetize them.
If you don't have a domain name, AWE will kindly host your whitelabel on a subdomain of their LSL brand, so your site will be YOUR_SUBDOMAIN.lsl.com.
But I recommend that you do have your own domain, it doesn't cost that
In only a few hours' work you can launch a fully functional cam site which can bring you nice commissions.
Stats, Tracking and Reporting Integration
The reporting on AWE is very good.
Your stats on AWE have the basic top view, and a drill-down option per program and per promoted site.
If you need a daily report there's only a graph below the stats per program, but myself I always prefer a plain daily table.

AWEmpire offers the option to use custom tracking campaigns for each affiliate link or promo tool.
It's a very convenient system:
In order to use campaigns, you need to create them in the system before you generate affiliate links.
If you're a small affiliate it will be more than enough for you, but for big affiliates and data-fanatics AWE offers an advanced solution.
Affiliate programs like PussyCash and Chaturbate allow you to add any tracking code you like and their system will automatically swallow it and integrate it in your reports.
AWE offers a similar option, but you will have to contact your affiliate manager in order for him to enable the advanced tracking system for your account.
Lastly, you can use the "Remote Stats" feature which allows you to export your stats via a secured query in the form of an XML or a CSV file, and integrate the data in your analytics software.
User Interface
The user interface of AWE is adapted for mobile devices, although not perfectly. It's still convenient enough to check your stats on your phone, and come to think of it, you don't really need anything else when you're away from a computer.
Aside from the mobile aspect, the UI is slick, clear, and provides easy access to any section of this top rated affiliate program.
You have easy access to the revamped promo tools section, the insanely elaborate FAQ section, and a very clear explanation of the terms of each program.
Payouts and Payout Methods
The payout part is pretty straightforward.
Your payout is sent four weeks or less after you reach your minimum payout threshold.
You can choose from 3 payment methods:
Check
Payoneer
ePayService – an e-wallet very similar to Payoneer
If you have an active Payoneer or ePayService account, the following 2 options are also open to you but only via those accounts:
Affiliate Support
The support team at AWE is great!
Every issue, even complicated issues, are resolved within more than a reasonable time frame.
During day time you might get a reply within minutes, and overall rarely take over 1 business day.
Simply put: They're professionals.
Awards
We awarded AWE the title of the Best Adult Webcam Affiliate Program.
But we're not the first to honor this dedicated team with a title.
So far, they were awarded:
XBIZ 2011 European Affiliate Program of the Year
XBIZ 2013 Live Cam Affiliate Program of the Year
XBIZ 2013 Progressive Company of the Year
Cybersocket 2013 Industry Choice Best Whitelabel
Adult Entertainment Virtual Awards 2013 Best Affiliate Program of the Year
Live Cam Awards 2015 Most Model Friendly Affiliate Program
That's not bad.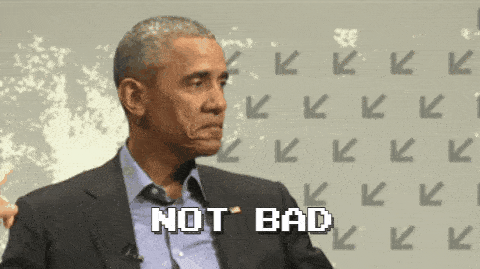 Important Fine Print
No fine print loopholes with the best adult webcam affiliate program. Everything is on the up and up, as long as you're aware of the basic stuff:
Only affiliates over 18 (or 21 in certain states), no spam, only legal content, no bidding on brand keywords in paid search campaigns, etc.
If you're not familiar with the standard affiliate program Terms of Service do yourself a favor and read them.
Bottom Line
If you had to choose an adult webcam affiliate program to promote, you would go with this one.
The good news is:
You don't have to choose!
You can promote all the affiliate programs in parallel, testing different creatives and landing pages, and optimizing your profits.
Start now, and send me a thank you email in a year.
I'll be waiting.