Chaturbate Affiliate Program Review: Get Paid for Free Sex Cam Traffic
Chaturbate has taken the adult webcam world by storm in 2011, along with their webcam porn affiliate program.
With the payment terms for webmasters barely changing throughout the years, it still attracts webmasters because it's so damn easy to get paid!
So how does this live porn affiliate program does it?
Simple:
They pay you a flat PPL fee for every user who signs up, and the kicker is:
No email verification required!
That's right, you can drive tons of traffic, and get paid for your users to make up a username and a password, and hit "sign up".
So, while Chaturbate doesn't have an interesting history like PussyCash and AWEmpire, it's still an awesome affiliate program which won awards right and left since it's conception.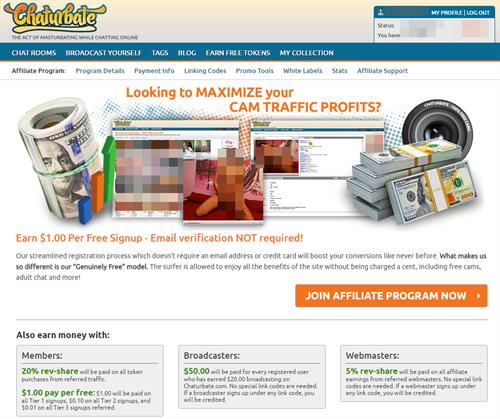 In this Chaturbate affiliate program review, you will find out everything you need to know in order to promote one of the hottest free adult cam sites and get paid in the process.
One Adult Webcam Brand is Enough
Chaturbate is the brand name of both the webcam site, and its live porn affiliate program.
They didn't invest too much (nothing at all, actually) in slick and modern design, nor did they add more sex cam products, but what these guys did do is to take something that works and advertise the hell out of it.
The thing that worked?
Free sex cams.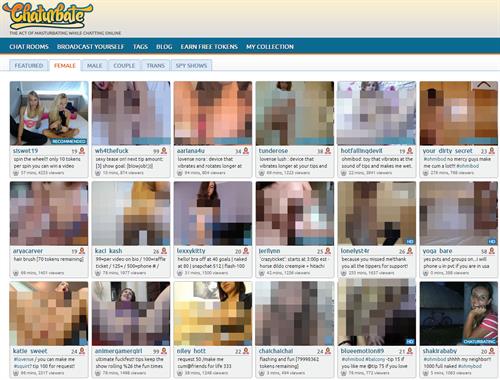 Your users can sign up for free, and watch live public shows for free, and the cam girls on their end get paid for the few free shows that some users still prefer, but mostly through voluntary tips.
Using this "free" model, Chaturbate attracted countless cam girls, webmasters and users, and today this site is a well-oiled conversion machine which only waits for you to drive more traffic in that direction.
Available in 15 different languages, the promotion opportunities of this adult cam site are practically endless.
Chaturbate doesn't have a mobile site, but it does use responsive design and correctly targeted adult webcam users don't really care.
I checked.
Chaturbate offers 4 principal niches:
Female (including lesbian couples and groups)
Male (including gay couples and groups)
Couple (including threesomes and groups)
Shemale (including shemale couples)
And traffic for these niches is abundant!
Chaturbate's Payment Programs
One thing I'd like to say to start off this section, is that on Chaturbate you can be all three things at once:
A user
A webmaster
A performer
You can use one link to recruit all 3 types of groups, and you can be an active part of each using one account.
Users are incentivized to advertise Chaturbate because you can take the payout and turn it into webcam credits.
Performers have a double incentive to promote Chaturbate, because they also promote themselves in the process.
And webmasters, well…
We only need one link to rule them all!
You only have to choose whether you want to earn PPL or RevShare for the users you bring in, and using the same link would compensate you for any users turned performer and/or webmaster.
True, no PPS, but you won't need it.
PPL
This webcam porn affiliate program offers a PPL structure that may appear to pale in comparison to other adult webcam players in the market, even free ones.
But there's one huge difference between Chaturbate and its competitors:
Free traffic sent to Chaturbate converts really really well, and you can earn up to $1 PPL for it.
I say "up to" because there are geographic payment tiers according to which you will get paid more for higher quality traffic, which is pretty fair.
Here are the tiers, screenshotted and highlighted from Chaturbate's TOS for your convenience:

From my own experience, it's $1 PPL more often than it is less, but in any case – the conversion rates are madness!
The users you send to Chaturbate have almost no sign up barriers, because no email is required for free registration!
RevShare
Chaturbate's RevShare program is pretty straightforward:
Earn a flat 20% of every purchase your referrals make, for life!
WhiteLabels
The whitelabel generator is super simple, and you don't even have to pick colors for your own co-brand because Chaturbate offers preset color themes in case you're too damn lazy to be creative.
You will earn the same as with RevShare: 20% lifetime of all orders placed on your whitelabel.
Webmaster Referral
For any webmaster you refer (I remind you: using the same link you use for customers), you will receive a flat 5% lifetime commission.
Model Referral
For referred models (once again, same link) you will receive a one-time $50 payment.
Available Promo Tools on Chaturbate
Chaturbate offers the standard set of marketing tools to help you attract adult webcam users.
You can send your users to a small variety of unique sign up landing pages, and to the basic gallery or chat room of every niche.
Aside from simple links you also have text ads, popups and banners.
Their banners – both static and animated – offer advertisements of each of the niches the site contains.
If you're into more complicated materials, you can connect to their API and list active webcam models dynamically on your site.
In addition to the above, you can embed live webcam streams and chat rooms to show on your site directly from Chaturbate, or you can simply list a series of online chat rooms in the same style as Chaturbate's gallery layout.
That's about it for the promo tools Chaturbate offers:
Modest and standard but powerful and very well converting.
Stats, tracking and reporting integration
Chaturbate offers basic stats, but also gives you tons of insight into what works and what doesn't.
You can use endless tracking codes which you simply add to your affiliate link without the need to generate them on this webcam porn affiliate program's interface.
Once you've sent some traffic their way, you can break down the stats by tracking code, date, tour (landing page), campaign / whitelabel, and sub-account (if you're doing webmaster referral).
In addition, and this is the kicker right here, you can download a CSV file with all the transactions your referrals ever made, which contains the user ID (not username, just a numerical anonymous ID), country, date of signup, date of purchase, amount of purchase, your commission, and the tracking code you used in your affiliate link.
From this wonderful file, you can gather tons of insights into how your users operate and optimize your revenue even more.
This file is also accessible via direct URL, so you can integrate this report into your own internal reporting if you need to do that and obviously, if you know how to do that.

User Interface
The user interface this live porn affiliate program offers is very simple and very straightforward.
You can access everything you need from the top menu:
Statistics, link codes and more advanced promo tools, whitelabel generator, affiliate support and your payment info.
Nothing else to it, the affiliate panel is really super simple and intuitive and most importantly: it works!

Payouts and Payment Methods
Chaturbate offers the standard set of webcam porn affiliate program payment methods.
Paxum, Payoneer, Wire, Direct Deposit and Check.
The minimum payout is $50 and each pay period lasts 2 weeks.
If you're over your set minimum payout amount at the end of the period, your payment will be sent within a week, and usually faster.
Affiliate Support: Feels Detached and Smells like Outsource
This is really a painful point for me to talk about.
I'll just lie down on the couch.
So this one time, I had a complex question regarding payouts. I'm not talking about string-theory-level-complex, I'm talking about 4th-grade-math-level-complex.
It took weeks to get a proper response out of these people because apparently a sentence ends after the first 5 words and they can't be bothered to read that I'm an affiliate and not a performer!
On the bright side, you usually don't need them.
And in case you do, if you communicate with them like the mouth-breathers they are, by which I mean in short sentences and direct requests – shit gets done within 24 hours or so and usually the right way…
After you sent them the equivalent of a photo of yourself holding today's newspaper, because apparently an email from the same email address that has been on the account for the past several years isn't proof enough.
Honestly!
A brand so huge can spare a few extra bucks for proper support!
Stop outsourcing this shit to the god damned Philippines or wherever, you are based in Canada and the UK for crying out loud, do your bloody economy a favor and lower your unemployment rates!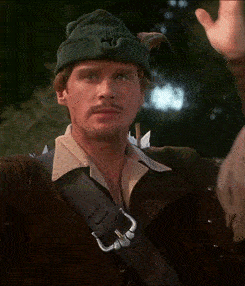 Ok, I'm done venting.
Update: I'm not saying it's because I wrote the last paragraph, but I suddenly have a dedicated affiliate manager shortly after publishing this review of Chaturbate and requesting their list of awards.
Awards
Chaturbate were awarded multiple honors and a fuck-load of nominations every year since about 2013:
2013

Webcam site of the Year: TheFanny's
Best Webcam Sex Site of the Year: Webcam-Sex-Advice.com Awards

2015

Most Innovative Live Cam Site of the Year: Live Cam Awards

2016

Adult Site of the Year — Live Cam (North America): Xbiz Awards
Best Live Cam Company of the Year: GFY Awards
Freemium Cam Site of the Year: AW Awards
Most Innovative Cam Site: AW Awards
Live Cam Site of the Year (North America): Live Cam Awards
Most Innovative Cam Site: Live Cam Awards
Epoch Loyal Business Partner: Live Cam Awards
Best Credits/Tokens Adult Cam Site: Adult Webcam Awards
Best Overall Adult Webcam Site: Adult Webcam Awards
Best North American Cam Site: LALEXPO Awards
Important Fine Print
Yes, I'm your savior:
I went over Chaturbate's entire terms of service and guess what…
No unusual fine print, just the regular legalese BS with all the standard live porn affiliate program clauses.
It's worth noting that their TOS is one and the same for everybody:
Users, models and affiliates.
Bottom Line
Chaturbate is a fine webcam porn affiliate program.
As I attempted to demonstrate in my Chaturbate affiliate program review, they offer a simplified approach which is more than enough to promote Chaturbate and monetize the hell out of your adult webcam traffic.
The one downfall is their affiliate support team which is terrible, but barring special cases, it's also unnecessary.
Pad your wallet with some extra cash.