BongaCash Review: Make Money from Porn like a Professional
This relatively new affiliate program was launched in 2012, seemingly inspired by Chaturbate which launched merely a year before that.
I think there's a connection because of the timing, because of the specific webcam niches offered on BongaCams, and also because they were offering a PPL payout for free users, something that wasn't as common in the adult webcam affiliate industry before 2011.
But BongaCash added their own twist:
By offering higher initial payouts and by investing impressive marketing efforts on their flagship product to encourage free members and unregistered users to sign up, BongaCash managed to grow rapidly and consistently recruiting more and more webmasters who are looking to make money from porn.
Despite the fact that many adult affiliate programs rise and fall every year, BongaCash managed to persevere while raising payouts and posing a real challenge to veteran adult affiliate programs.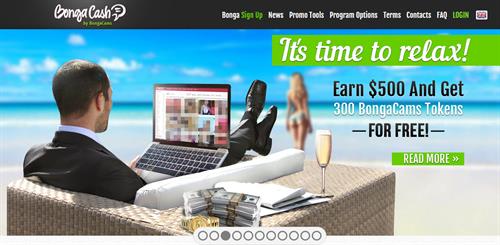 My BongaCash review covers everything you need to know about this adult affiliate program, so start reading.
The BongaCams Brand
BongaCams was built to last, and built quickly at that.
This company takes advantage of automatic translation tools to present their site in no less than 35 different languages, determining the language of the landing page by the user's IP address.
Offering live sex chat with girls, guys, couples and transsexuals, BongaCams is a great free webcam site for the vast majority of users.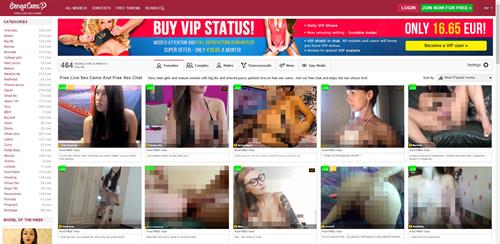 You can count on this site to convert with a variety of popups and special offers for unregistered webcam viewers encouraging them to sign up for free, and further improving your odds to make money from porn.
BongaCams won the Best Emerging Live Cam Site award at the Live Cam Awards 2016.
The BongaCash Programs
BongaCash offers a variety of payment programs, however there's no PPS option.
Here are the ways in which you can make money from porn with BongaCash:
PPL
This pay-per-lead program is actually pay-per-email.
Users have to provide their email address for a free registration, but emails are free and users are not discouraged by this requirement.
You can earn up to $3 per email, depending on the geographic location of your referred traffic.
For desktop users the payouts are broken down per groups of countries on a long sliding scale: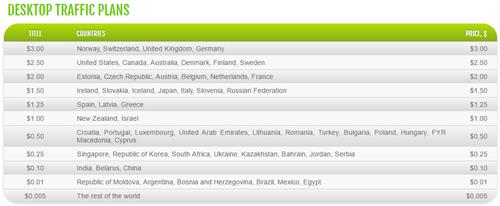 For mobile users the payout goes as high as $2.50 but the scale is different: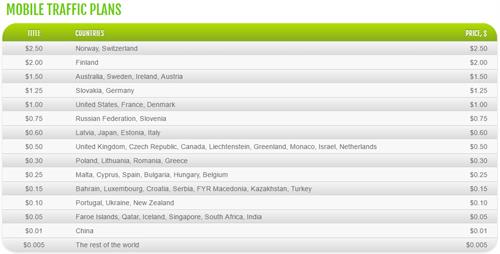 RevShare
BongaCash offers a flat 25% lifetime revenue share for every cent paid by your referred members on BongaCams.
Webmaster Referral
Refer affiliates to earn 5% of what they earn without any special links.
So if you refer a user to BongaCams and he finds his way to the affiliate program and starts earning – you'll see a cut from that.
Obviously your referred webmasters won't be the ones paying the price, but BongaCash will throw those 5% on top of that affiliate's earnings.
Model Referral
Similarly, if you refer a webcam model to BongaCams you will earn a lifetime commission of 5% of whatever this model is earning.
Promo Tools
The promo tools that BongaCash offers are definitely above average in terms of both quality and variety.
You get a large enough selection to test multiple marketing strategies when promoting their webcam site.
You can simply link directly to them in the context of a promotional article, or implement more advanced methods like dynamic or geo-targeted banners and watch your unique visitors skyrocket!
Even better, if you want to present actual adult content to your audience, you can use the embedded webcam chat or use the good ol' pop-under to drive your audience even closer to that signup which will guarantee that sweet PPL payout.
Another great tool which BongaCash offers is the API using which allows you to list on your site the models which are live on BongaCams right now!
So browse the BongaCash promo tools section and start testing different approaches – one of them is bound to work best for you!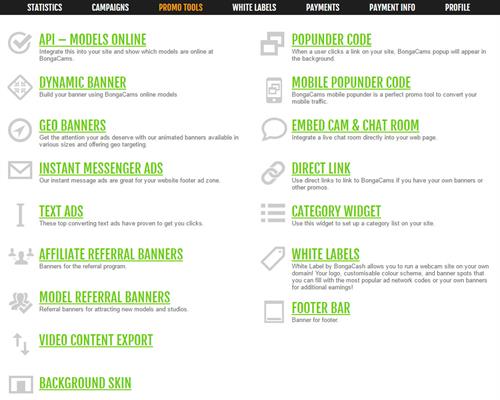 Whitelabels
A promo tools section wouldn't be complete nowadays without a white label generator, and BongaCash refuse to get left behind eating dust.
The BongaCash white label generator seems perfectly simple and innocent, but if you look deep into its eyes (and menus) you'll see that aside from color-scheme and logo customization, you can modify the meta data and site text for every page and category on the site, and you can even do it for each language offered.
This is helpful if you want to distinguish your brand from the original BongaCams brand and you want to do it if you aim for success.
Oh, and pay attention to the fine print:
Because if the domain on which you intend to build your white label doesn't have privacy protection your affiliate account will be disabled.
Here's the white label builder on Bonga Cash: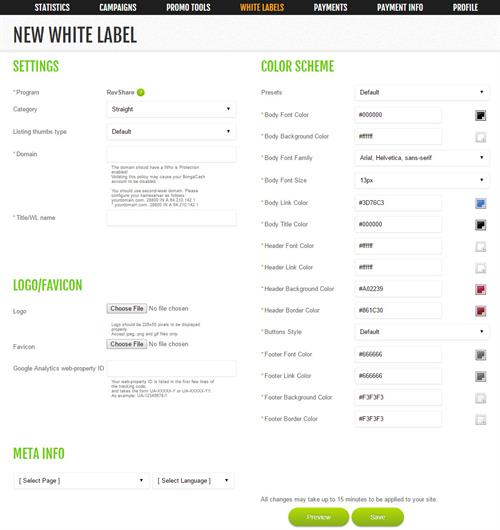 Stats, Tracking and Reporting Integration
The reporting features are more than satisfactory!
You can segment your stats by day, month or year if you're interested in reviewing your performance over time, but there's more!
I'll just take a deep breath:
You can segment your stats by program, custom campaign, white label (if you have any), device type, country, type of visitor (user / webmaster / model), and you can filter the view by one segment and then segment it even further by another!
So all in all, the stats are more than enough to measure, analyze and optimize the traffic you're sending to BongaCams.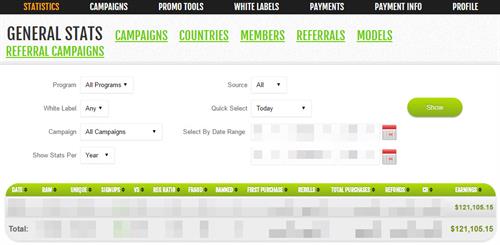 For tracking traffic from specific links you can create campaigns, and each of those links can use a different payment model but the downside is that you have to create them in advance on the BongaCash affiliate program interface.
Then again – on the bright side – BongaCash offers you PostBack URLs for reporting integration with your own internal tracking systems.
So to all you advanced webmasters out there:
If you're interested in using this feature, place your mouse over the "Signup postback url" text box when you create a new campaign, and pay attention to the fine print which appears.
Ok, ok!
Here's a screenshot: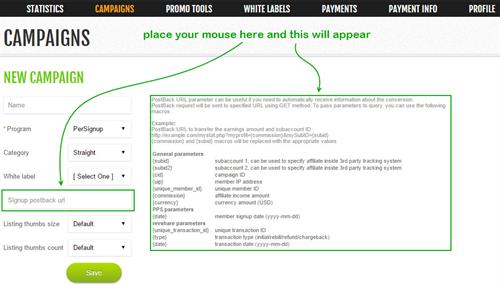 User Interface
The BongaCash affiliate program interface is really all a webcam affiliate can ask in order to successfully make money from porn.
You might've realized that just by reading my BongaCash review, but when looking at this adult webcam affiliate program it's clear to anyone that these guys are here to stay for a long time.
Everything is clearly outlined, the menus make sense, and each section gives you no more and no less than what you need from it.
Navigation is clear and simple, the most common questions are answered in the FAQs, and the affiliate manager contact emails are clearly placed in the footer so that you can easily find them on every page.
Payouts and Payment Methods
The payment period on BongaCash is the ever-popular half month which means 14-16 days, when the first monthly period ends on the 15th of each month, and the second one on the last day of the same month.
Once your balance reaches the minimum payout of $200 (or more, if you choose) at the end of a period, your payment will process and will be sent out in 2 weeks, more or less.
BongaCash offers 4 payment methods:
Payoneer
Paxum
WebMoney
Wire Transfer
Important note: BongaCash requires affiliates to upload an invoice to their system before they send out the payment.
Affiliate Support
As much as I love complaining about affiliate support, the affiliate managers of BongaCash are very responsive and professional.
Even though I can count the number of times I needed help on one hand (because the system is so easy to use), every time I did need help the response was quick and to the point.
Good job guys!
Awards
Being a relatively young player in the world of adult webcam affiliate programs, BongaCash didn't have a lot of time to win awards, but they finally did in 2016!
They grabbed the title of Best Affiliate Program (cams) at the AW Awards 2016 and they just can't stop talking about it!
What can I say?
Well done and well deserved!
Important Fine Print
None, really.
Keep to the standard best practices and don't try to cheat the system, and you'll be fine and dandy.
But as I always recommend:
Read the Terms and Conditions page yourself, after all you're agreeing to every word of it when you sign up.
Bottom Line
The conclusion of my BongaCash review is that this adult webcam affiliate program is impressive and worth partnering with.
This company offers a clean affiliate interface, a strong webcam brand, detailed statistics, sufficient payment methods, quality affiliate support and competitive payouts (especially its PPL program).
I recommend not only giving it a shot, but investing efforts in building a long term relationship with these guys – they will last long and go far!